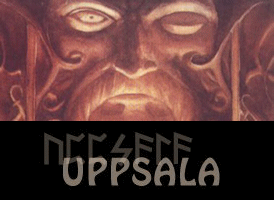 Odin
Loki
Berserkergang
Valkyries
Alfish Worship
Runes
Asatru
Factions in Asatru
Heathen Mysticism

Please help me continue to write new books, write new blog posts, and keep this site ad-free:
Outsitting
Return to the Heathen Mysticism page
Outsitting is a ritual designed to give the practitioner visions, either visual or auditory, not unlike as occurs in scrying. Outsitting should be attempted in a meditative state. The practitioner can further prepare him- or herself through fasting and/or alcohol. (Not overmuch, though.)
The practitioner should go to a quiet place where he or she will be undisturbed for a long time. A hat or hood should be pulled over the eyes so that it completely blocks out the sight. Prayers such as
"Odin open my eyes!"
or
"Freya free miy sight!"
should be said over and over until some sense of connection to the gods is established, however distant, like in sumbel or the ve.
Once this is done the practitioner should quiet his or her mind as much as possible, holding the question being asked or the nature of the vision being sought gently in his or her mind. Eventually, impressions will start to arise, followed by visions. These should not be reacted to or interacted with until done or just about done.